The KY-015 Temperature and Humidity Sensor Module is based on the DHT11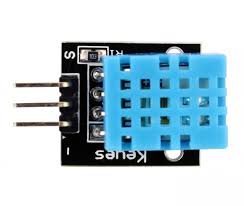 DHT11 digital temperature and humidity sensor is a composite Sensor contains a calibrated digital signal output of the temperature and humidity. Application of a dedicated digital modules collection technology and the temperature and humidity sensing technology, to ensure that the product has high reliability and excellent long-term stability.
The sensor includes a resistive sense of wet components and an NTC temperature measurement devices, and connected with a high-performance 8-bit microcontroller.
Relative humidity
Resolution: 16Bit
Repeatability: ±1% RH
Accuracy: At 25℃ ±5% RH
Interchangeability: fully interchangeable
Response time: 1 / e (63%) of 25℃ 6s
1m / s air 6s
Hysteresis: <± 0.3% RH
Long-term stability: <± 0.5% RH / yr in
Temperature
Resolution: 16Bit
Repeatability: ±0.2℃
Range: At 25℃ ±2℃
Response time: 1 / e (63%) 10S
Electrical Characteristics
Power supply: DC 3.5~5.5V
Supply Current: measurement 0.3mA standby 60μ A
Sampling period: more than 2 seconds
Connection
Connect the Power line (middle) and ground (-) to +5 and GND respectively. Connect signal (S) to pin A0 on the Arduino.
| | |
| --- | --- |
| KY-015 | Arduino |
| S | Pin A0 |
| middle | +5V |
| – | GND |
Code
#define dht_dpin A0


byte bGlobalErr

;


byte dht_dat

[

5

]

;


 


void

 setup

(

)

{


InitDHT

(

)

;


Serial.

begin

(

9600

)

;


delay

(

300

)

;


Serial.

println

(

"Humidity and temperature

\n

\n

"

)

;


delay

(

700

)

;




}


 


void

 loop

(

)

{


 ReadDHT

(

)

;


 

switch

 

(

bGlobalErr

)

{


 

case

 

0

:


 Serial.

print

(

"Current humdity = "

)

;


 Serial.

print

(

dht_dat

[

0

]

, DEC

)

;


 Serial.

print

(

"."

)

;


 Serial.

print

(

dht_dat

[

1

]

, DEC

)

;


 Serial.

print

(

"% "

)

;


 Serial.

print

(

"temperature = "

)

;


 Serial.

print

(

dht_dat

[

2

]

, DEC

)

;


 Serial.

print

(

"."

)

;


 Serial.

print

(

dht_dat

[

3

]

, DEC

)

;


 Serial.

println

(

"C "

)

;


 

break

;


 

case

 

1

:


 Serial.

println

(

"Error 1: DHT start condition 1 not met."

)

;


 

break

;


 

case

 

2

:


 Serial.

println

(

"Error 2: DHT start condition 2 not met."

)

;


 

break

;


 

case

 

3

:


 Serial.

println

(

"Error 3: DHT checksum error."

)

;


 

break

;


 

default

:


 Serial.

println

(

"Error: Unrecognized code encountered."

)

;


 

break

;


 

}


 delay

(

800

)

;




}


 


void

 InitDHT

(

)

{


 pinMode

(

dht_dpin,OUTPUT

)

;


 digitalWrite

(

dht_dpin,HIGH

)

;




}


 


void

 ReadDHT

(

)

{


bGlobalErr

=

0

;


byte dht_in

;


byte i

;


digitalWrite

(

dht_dpin,LOW

)

;


delay

(

20

)

;


 
digitalWrite

(

dht_dpin,HIGH

)

;


delayMicroseconds

(

40

)

;


pinMode

(

dht_dpin,INPUT

)

;




//delayMicroseconds(40);


dht_in

=

digitalRead

(

dht_dpin

)

;


 


if

(

dht_in

)

{


 bGlobalErr

=

1

;


 

return

;


 

}


delayMicroseconds

(

80

)

;


dht_in

=

digitalRead

(

dht_dpin

)

;


 


if

(

!

dht_in

)

{


 bGlobalErr

=

2

;


 

return

;


 

}


delayMicroseconds

(

80

)

;




for

 

(

i

=

0

;

 i

<

5

;

 i

++

)


 dht_dat

[

i

]

 

=

 read_dht_dat

(

)

;


pinMode

(

dht_dpin,OUTPUT

)

;


digitalWrite

(

dht_dpin,HIGH

)

;


byte dht_check_sum 

=


 dht_dat

[

0

]

+

dht_dat

[

1

]

+

dht_dat

[

2

]

+

dht_dat

[

3

]

;




if

(

dht_dat

[

4

]

!

=

 dht_check_sum

)


 

{

bGlobalErr

=

3

;

}




}

;


 
byte read_dht_dat

(

)

{


 byte i 

=

 

0

;


 byte result

=

0

;


 

for

(

i

=

0

;

 i

<

 

8

;

 i

++

)

{


 

while

(

digitalRead

(

dht_dpin

)

==

LOW

)

;


 delayMicroseconds

(

30

)

;


 

if

 

(

digitalRead

(

dht_dpin

)

==

HIGH

)


 result 

|

=

(

1

<<

(

7

-

i

)

)

;


 

while

 

(

digitalRead

(

dht_dpin

)

==

HIGH

)

;


 

}


 

return

 result

;




}